DATA - Best data yet from LINDA
This data set, showing plasma density, was captured during Orbit 97 on 17 december 1998 starting at about 15:29:00 UT. The measurement was done in real time as the Astrid-2 passed from dayside to nightside and then into the auroral oval. The plot clearly shows how the plasma density drops as the satellite passes from dayside to nightside. When Astrid-2 moves into the auroral oval the density fluctuations increases most significantly.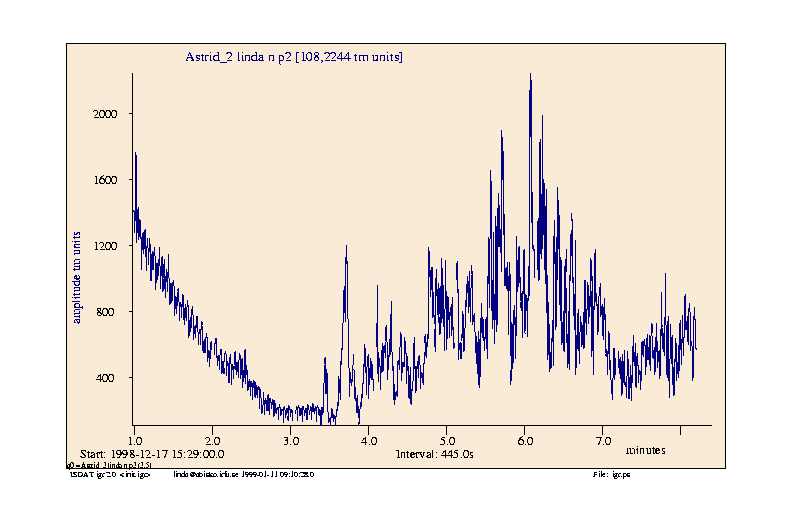 Figure: Density (mA) vs. time (s).
| | |
| --- | --- |
| S/C name | ASTRID2 |
| Orbit | 97 |
| Groundstation | Solna satellite station |
| Elset epoch | 1998-12-14 04:56:34 (348.2059549) |
| EAOS | 1998-12-17 15:29:50 (17882.645726) |
| CLO | 1998-12-17 15:34:00 (17882.648611) |
| CLC | 1998-12-17 15:40:00 (17882.652778) |
| ELOS | 1998-12-17 15:43:56 (17882.655517) |
| Antenna switch | 1998-12-17 15:36:56 (17882.650656) |
| Antenna order | 1/2 |
| Duration | 000:00:14:06 |
| Peak elevation | 15.0 degrees |
| Rise time Azim | 269.06 |
| Set time Azim | 19.20 |
| Ground track | North crossing g/s longitude |
| Attitude used | 0.30671363,-0.94396749,-0.12186934) |
| AOS | 1998-12-17 15:29:52 |
| LOS | 1998-12-17 15:36:55 |
| Data filename | 25430929.SSS |
| Available FTP | YES |
| Formats saved | 53812 |